How do we fix Michigan's infrastructure?
Until a long-term solution is found, fixing our state's infrastructure will be a major issue for study, debate and solution for Michigan citizens and our elected leaders. Together, we need to:
Define exactly what needs to be fixed
Because it all can't be fixed at once, prioritize what needs to be fixed when and where
Determine how to pay for it
Our elected leaders in Lansing only recently started seriously examining the state's massive infrastructure needs and possible solutions. When and how they will act is unclear, but Michigan can't afford to wait much longer.
Recent studies show that billions more are needed each year
How to fix Michigan's infrastructure is the big question. Right now, there are only proposals, but no final answers.
However, following many decades of neglect, engineers, policy experts, business leaders, and elected officials largely agree that fixing Michigan's infrastructure will take decades and cost billions of dollars.
In fact, two recent independent studies (one published in December 2016, and the other in January 2017) concluded that Michigan needs $4 billion more every year for decades to repair and/or replace what's aging or broken.
Read the recent studies – and the 2023 Report Card for Michigan's infrastructure – here: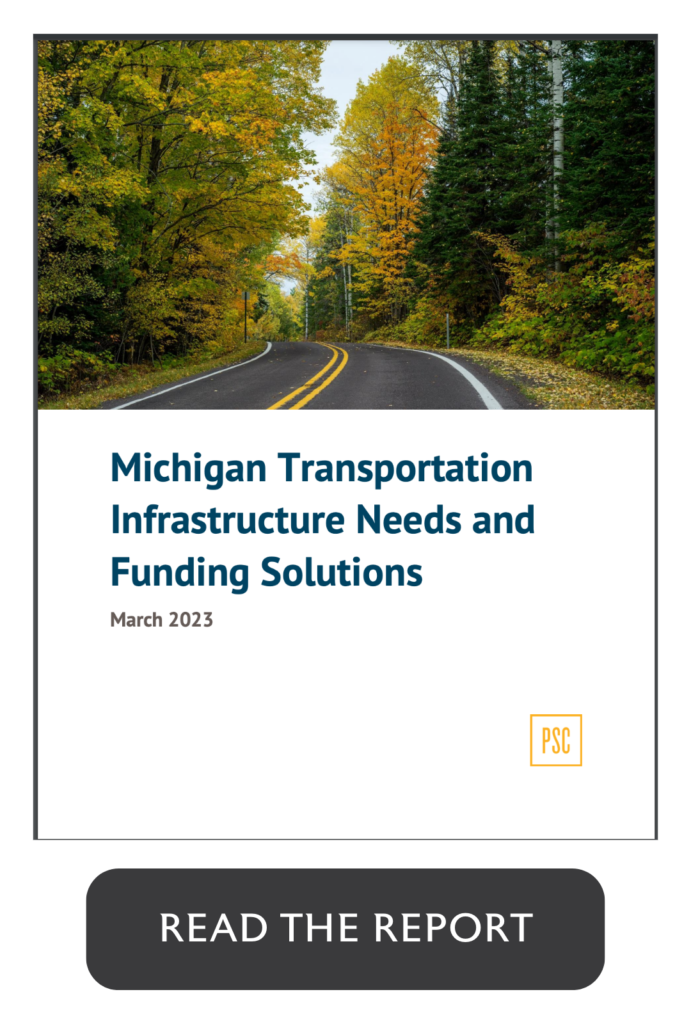 Stormwater & Wastewater Sewer Systems
Michigan needs to invest more than $2.14 billion to fix and update stormwater and wastewater management infrastructure across the state, according to estimates by the U.S. Environmental Protection Agency. (Source: "Michigan's Water Infrastructure Investment Needs," April 2016, Public Sector Consultants)
Currently, Michigan has an estimated $800 million annual gap in water and sewer infrastructure needs (Source: American Society of Civil Engineers-Michigan "2018 Report Card for Michigan's Infrastructure")
Drinking & Recreational Waters
Michigan needs to increase investments in maintaining drinking water systems by $284 million to $563 million a year — not including improvements that need to be made in Flint (Source: "Michigan's Water Infrastructure Investment Needs," April 2016, Public Sector Consultants)
Michigan has about $13.8 billion in drinking water infrastructure needs over the next two decades (Source: American Society of Civil Engineers "2013 Report Card for America's Infrastructure, State Facts")
Roads & Bridges
Upgrading all of Michigan's major roads currently in poor or fair condition to good condition would cost $14.1 billion. (Source: "Michigan's Top Transportation Challenges," April 2015, TRIP, a national transportation research firm)
79 percent of local Michigan governments said they would need a 50 percent increase in state funding for local roads, just to maintain their roads in their current condition. And more than half (56 percent) said state funding for local roads would need to more than double to allow them to improve the condition of their roads. (Source: "Michigan Public Policy Survey," Feb. 2015, The Center for Local, State and Urban Policy at the University of Michigan)
Dams & More
Funding for Michigan's aging dams is reaching crisis proportions. One study estimates that 120 Michigan dams need at least $50 million for repairs or rehabilitation. Many municipalities and other owners of dams cannot afford to repair and replace or remove their dams on their own. As Michigan's dams continue to age, the need for state or federal funding or funding from some other source will become more acute. (Source: American Society of Civil Engineers-Michigan Chapter, "2009 Michigan Infrastructure Report Card")