What does fixing Michigan's infrastructure look like?
For over 90 years, C.A. Hull has been a leader in Michigan's heavy-highway and bridge construction industry. Founded by Clarence Hull in the 1930s, Clarence hired a young engineer named Don Malloure to assist him in his efforts. Today, President Mike Malloure –a third generation Malloure–and Vice President Dave Turner manage the company.
After acquiring the bridge rehabilitation division of Champagne-Webberin 1996, C.A. Hull has the unique ability to perform any type, or combination, of bridge work. C.A. Hull's vast capabilities allow the team to handle every aspect of bridge construction, reconstruction, and rehabilitation from demolition and earth retention to structural walls, concrete, and coatings.
Currently, C.A. Hull is working on a $62 million, multi-year, design-build project to redesign the interchange of I-75 and M-46 in Saginaw. With nearly 30 full-time employees and 17 subcontractors on the job, work began in April 2020 to design and build a new overpass structure, two new roundabouts on both sides of the interchange, reconstruction of the M-46 roadway, construction of I-75 crossovers, temporary ramps, and temporary widening of I-75.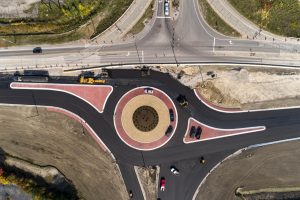 Work for the 2021 season will include the removal of the north half of the original M-46 structure. Work on the I-75 freeway will include the reconstruction of two structures over a railroad, construction of two sheet piling retaining walls with a cast-in-place concrete face, total reconstruction and permanent widening of the I-75 roadway and ramps to M-46, elimination of the pump station north of M-46, and a 2,400'x 20' deep infill. Work for 2022 will consist of completing I-75 median reconstruction, the removal of temporary widening, crossovers, and restoration.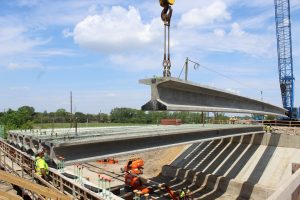 C.A. Hull currently has 20 active jobs throughout the state of Michigan from the Metro Detroit area to north of Roscommon. These projects include new bridge construction as well as bridge rehabilitation and maintenance.It's no shock to anyone thatMichigan's aging infrastructure needs repair and maintenance.
C.A. Hull is one example of an industry expert leading the way to make our infrastructure stronger and safer for our communities to use. Michigan's professionals and road industry are doing a great job of utilizing the funding made available, but much, much more is needed. With a long-term infrastructure funding plan, Michigan workers can #FixMIState to build the necessary roads and bridges we need for a successful future.